Improve Clay Soil Effectively with ClayMend
Is clay soil frustrating your attempts to grow a healthy lawn and garden?
Improve Your Clay Soil and Bring it Back to Life Today
If dense, dry dirt is giving you fits, don't give up, you can actually improve clay soil.  You can have clay soil and still have the lawn and garden of your dreams. In fact, did you know that clay soil can actually be better than top soil because of its ability to hold nutrients?
With ClayMend you can easily and effectively unlock that potential.  ClayMend can improve your clay soil by improving the environment of the soil.  As a result this can lead to an increase in true organic activity.  Soil pH can improve due to this activity and it works in improving the flow of air and water.  Furthermore, as a result of these improvements the clay soil can encourage more robust root growth.
What causes clay soil to become dense?
The problems with clay soil are caused by its physical makeup and its nutrient composition. It makes it quite difficult to improve clay soil. So what causes it to become dense?
Dispersed microscopic clay particles
Excess salt and sodium from environmental agents (which cause dispersion)
Irrigation by well water, reservoir water or other water high in salt
Animal waste
What problems are caused by clay soil?
Clay soil particles can hold nutrients (unlike sand and silt). Unfortunately the dense structure of clay soil can restrict nutrients from getting in the soil or lock up nutrients that are in the soil. Here are other results:
Poor air flow
Limited water reaching roots
Excessive amount of water lost through evaporation
Fungus due to improper drainage
Restricted activity of microbes
Restricted activity of macro organisms such as earthworms
High alkalinity
Suppressed root development
Nitrate runoff into downstream water
Are you tired of lugging heavy bags of gypsum or other heavy materials to fix your clay soil?
Traditionally bulk materials such as gypsum or lime are lugged in to amend clay soil. See our page How ClayMend Works to learn how ClayMend is a smarter solution that is much easier to use.
How can I soften my clay soil?
Understandably, homeowners often like to try do-it-yourself methods first. There are so many products and so much conflicting information online that can make you overwhelmed and confused. How do you sort the fact from fiction? There are some things you can do that may have short-term results. Here's a quick rundown of some things you can try:
Lime. If you have acidic soil such as Georgia Red Clay, the lime can help reduce it. (This will eventually be lost with high rainfall, but it can help temporarily. Keep in mind that most soil is alkaline, and adding lime will make things worse.)
Gypsum. A popular soil amendment, gypsum is a sulfate mineral that can help breaks clay apart. The effect will last only for a few months. (However, keep in mind that the calcium in gypsum can add to the alkalinity of high-alkaline soil and make it worse.)
Compost. We always encourage the use of compost! But it takes a really long time to improve clay soil due to the poor microbial activity. Thus, the process to extract nutrients is slow.
A more sustainable solution to improving clay soil !
ClayMend. For robust, healthy growth in clay soil, you have to get to the root of the problem. You must improve the environment of the soil so that microbes can survive and thrive.  That is where ClayMend starts.  Then microbial activity works to restructure the soil.  One of the problem with passive amendments such as gypsum is that they diminish over time.  ClayMend is simply a more sustainable solution.
A Superior Soil Structure
ClayMend addresses almost all of the issues of hard clay soil by improving the soil environment, introducing beneficial soil microbes and supplying them with nutrients.  The proprietary blend of organic acids in ClayMend start the process by gathering the ultra-fine clay particles together and the microbes work to secure them together.  This process opens the soil allowing it to breath and as it opens the beneficial microbial activity increases and plant roots are able to establish themselves in the restructured soil. Many of these improvements by the organic activity become permanent unless something harmful to the soil such as salt is introduced.
Nutrients that have been locked away become free to be attached to the organic material and the clay structures for easy access by the plant roots.  Repeat use of ClayMend helps the microbial activity to work deeper in the soil for further improvement.  An active soil can maintain a superior soil structure for a much longer period of time than the temporary soil improvements from other amendments.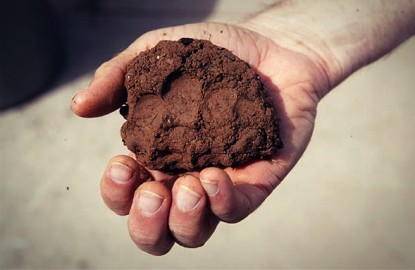 ClayMend is a Soil Amendment that
Gets to the Root of the Problem
It works to change and improve the structure of clay soil and to improve its ability to create and store nutrients.
A better solution is ClayMend that will work to improve clay soil in many areas.
As a liquid soil amendment it is easy to apply to lawns, shrubs, trees, flowers or vegetables.  It is able to get into soils where traditional amendments for clay soil are impractical. ClayMend can be applied to these areas and then rinsed off of the vegetation.  It is not harmful to the vegetation.  However, it needs to get down into the soil.  That is where it will work to improve clay soil and ultimately where improvements to lawns and plants occur.
ClayMend will help improve clay soil by improving many aspects of the soil, preparing it for a spectacular lawn and garden.
Cumulative improvements can result with repeat applications.
Space applications at 4 to 6 weeks apart.
Bring life to your soil today with ClayMend
Opens hard clay soil

Improve water penetration

Increase Aeration

Encourage root growth
Balance soil pH


Have a vibrant lawn and garden


Use less fertilizer


Invest in a healthier environment

Start to Improve Clay Soil in Your Yard Today with ClayMend

Are you ready to start with ClayMend?
Ordering is easy.
• Order Online
• Call us Now
Want a little more information before ordering?
Simple Solutions to Complex Problems™
Testimonials
See What Our Satisfied Customers Have to Say!
At HumicGreen our top priority is the satisfaction of our customers. We strive to provide the highest quality lawn and garden products available.
Don't take our word for it. See what our customers say.
It Worked Wonders!
Unfortunately, I had my English Laurel bush trimmed by a very inexperienced person. It was in such bad shape I thought it would have to be removed. I was upset, as it had been there a number of years and would leave a large bare spot at my front door.  At my Neighbors suggestion, I applied ClayMend and Humic Granules around "Winston" as I call him; and it worked wonders. He is almost as good as new.  P.S. The Nasturtiums around the base outdid themselves!
M. A. Barney – Salt Lake City, UT
Claymend works
I live in Las Vegas and was having a hard time getting my grass to look healthy. We have a lot of clay in our soil and my grass was having a very hard time growing. In spots it looked blotchy and sparce. I tried different products and nothing seemed to help. My son recommended Claymend. I could not believe the difference! It is now healthy and beautiful. I even had some professional lawn care workers come over to my house to ask me what I was using on my grass! Thank you for making such an excellent product! I recommend it to all my friends.
Works Great!
I have used the product for about a year. Sometimes when I'm out mowing my lawn, people driving down my street will stop and tell me I have the best looking lawn in the neighborhood. The neighbor's milkman and his young son even knocked on my door one day because his son noticed there we're no brown spots on my lawn and wondered what my secret was. Thanks Humic Green!
Ken H. – Salt Lake City, UT
Very Happy With the Results!
My neighbor treated my damaged dying lawn with ClayMend, HumicGranules, BioBuilder and GreenZyme. It came back much sooner than expected and seems to need less watering. I'm very happy with the results.
Nate B. – Salt Lake City, UT
This is an amazing product!
I used your ClayMend product again and let me tell you how impressed I am! This is an amazing product!
Shelli M. – McAlester, OK
Best my lawn has ever looked!
I used claymend on my lawn this spring and I will say this is the best my lawn has ever looked through out the hot summer months we have in Nevada. It stayed bright green even in July and August.  My neighbors all ask what i use on my lawn as it is they best lawn they have seen. It really works.
Put Mother Nature to Work for You to Help Restructure and Improve Clay Soil
Start building an army of microscopic organisms in your soil that will start working for you today.